Wraith figure and other Iron Studios statues
Welcome to Iron Studios, the company that often tends to delight us in two ways: on the one hand high-level figures in every respect, and on the other the more cartoonish but equally perfect line of smaller figures (in size but above all in price) known as 'Mini Co'.
Iron Studios is a brand founded in 2012 that produces collectible figures for fans of the sector. This brand has several licences that allow it to create statues dedicated to many different characters such as those belonging to the Marvel Universe, Star Wars, Ghostbusters, Jurassic Park, but especially the DC Universe with characters that have appeared in both films and comic books; the DC Universe collectables are one of the jewels in the crown of the brand, which reproduces the characters of the sagas concerned following a very precise philosophy during the creation of its articles, i.e. that of creating a statue for the fans created by the fans, therefore taking care of every detail to create a figure without smears that is perfect in every detail.
This time, too, it has succeeded in its intent, winking more at cinephiles but also giving a thrill to those with an entirely different passion… follow the article to find out what Iron Studios statues are the most popular in the United States!
Games and Comics in its offer dedicated to statues depicting characters from the DC comics and film Universe presents various characters from different stories and moments, faithfully reproducing the chosen characters, taking care of every detail to give fans figures of incredible aesthetic beauty that will satisfy even the most pretentious fans.
Among the proposals presented by Games and Comics are characters such as: Batman, Wonder Woman, Poison Ivy, Martian Manhunter, Mr Freeze, Robin, Aquaman, Green Arrow and many more.
"Mini Co" series
We start off lightly with two figurines that are really different in genre but share the typical style of this line.
Jason Voorhees (€44.90) - horror fans this one is all for you: the protagonist of Friday the 13th in all his beauty (so to speak)… don't be fooled by his "cuddly" appearance, because you can tell from the details that inside he's the usual vengeful monster we know?
Harry Potter & Buckbeak (€69.90)- Smarter-than-usual look and wind in his face for the protagonist of one of the most famous modern fantasy sagas, seeing him riding Hagrid's hippogriff is really exciting?, moreover did you notice the care with which they reproduced Hogwarts in perspective?
1/10th scale statues
We now continue with no less than three highlights, moving from cinema to comics… smooth as silk ?
Willy Wonka (€299.90) - more than a simple statuette, it's a real resin celebration, and it's no coincidence that this Deluxe Edition was created to celebrate the 50th anniversary of the film… with an ad hoc extra: Iron Studios will hide some "golden tickets" in the boxes of the statues that will be distributed, and whoever finds it will receive a special surprise! What it will be, however, is still a mystery! ?
Catwoman (€164,90) - I don't know about you but when I saw her my heart skipped a beat ?, the maniacal perfection with which they have reproduced the features of the charming Michelle Pfeiffer is unbelievable, straight from Tim Burton's second Batman you couldn't ask for anything more
Hawkgirl (€264.90) - from movies to comics with no regrets with this limited edition Deluxe statue; although you might argue that she's not a major character in the DC landscape, you certainly can't deny the power and visual impact of this entirely hand-painted work!
Apex Legends Wraith Figure
Not playing Apex Legends? Then give yourself a unique gift - Wraith figure! The Wraith is an essential 'Legend' in any team composition because of its attack and defensive abilities - let it protect your work and zone for the game at home, too! The figure is made of PVC and is approximately 22 cm high. Wraith stands on the basement floor with logos of her abilities painted on it, and she appears in a pose that any Apex Legends fan will instantly recognise. Get Apex Legends Wraith figure now at the Fragstore!
Iron Studios DC Comics statue - Wonder Woman vs Darkseid diorama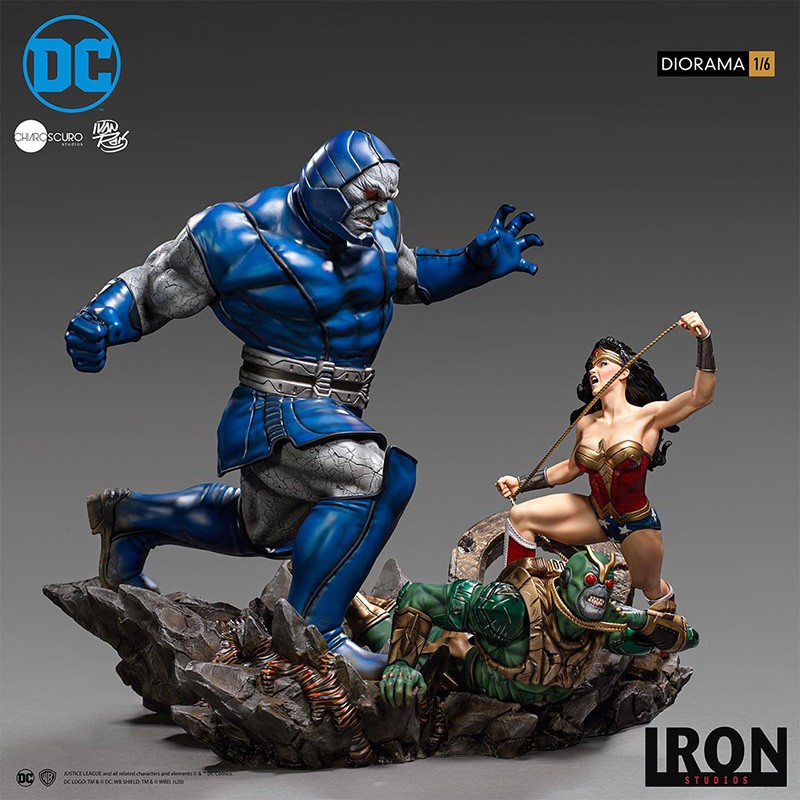 Another incredible proposal from Games and Comics is the 1:6 scale Wonder Woman vs Darkseid statue, with a fantastic diorama; this statue depicts a battle scene between the two characters that takes place on a highly detailed base that also features one of Darkseid's parademons, in this case subdued by Wonder Woman's strength.
This imposing sculpture, approximately 45 cm high and more than 50 cm wide, is entirely hand-painted and is the result of artist Ivan Reis' collaboration with Chiaroscuro Studios.
The faces, clothes and movements of the characters are depicted in an extremely realistic manner to create a figure that will make any fan fall in love with it.
Don't miss the chance to add a one-of-a-kind statue to your collection.
Comments about Wraith figure and other Iron Studios statues